The easiest SDK of the market!
With FokusMap, you won't need to do anything, neither the base map, nor adding the display of the points of interest, nor the interactivity.
A map in your app without coding! (Or almost)
With FokusMap, you only need 2 coding lines to show a functional map in your application! The chain "map_id" (in red) makes reference to a card designed graphically with MapMaker (our back-office).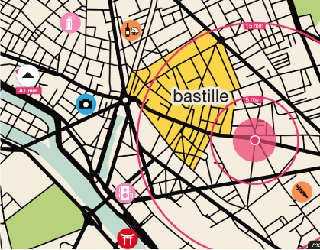 Vectorial and light
You can choose at the same cost, the completely vectorial map. The advantage is especially visible offline: our technology compresses so much the vectorial data that the city of Paris with all of its streets, and all of its addresses, takes up less than 10 Mb!
Economical and fast
Did you know that the screen it is not the gadget that uses most of the battery of your phone, but the connections 3G or 4G? Thus, imagine how big the savings of battery would be with a precharged offline map, plus the utility comfort of an ultra-fast display.
APP & WEB APP
You won't have to choose anymore between App and Web App: a subscription to "offline FokusMap" (SDK) provides you with an URL for checking out the on-line map! Use this same address in a Web site or in an email!